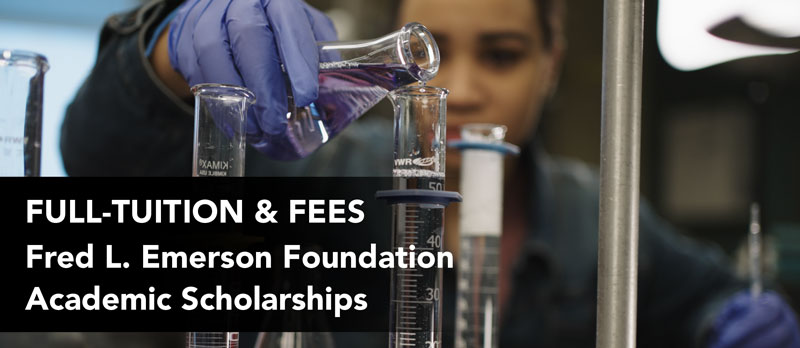 FRED L. EMERSON FOUNDATION

ACADEMIC SCHOLARSHIP
FOR
HIGH-PERFORMING

HIGH SCHOOL SENIORS IN

CAYUGA COUNTY

Jordan-Elbridge, Skaneateles, and Tyburn Academy students are also eligible.
Cayuga Community College and the Cayuga County Community College Foundation are pleased to announce a new scholarship program for high-performing high school seniors in Cayuga County (including Jordan-Elbridge, Skaneateles and Tyburn Academy). This new academic opportunity is being made possible by a generous donation from The Fred L. Emerson Foundation.
Candidates for this new scholarship must be enrolled as a first-time, full-time student at Cayuga Community College and have a 75% average or above. The equivalent of nine scholarships will be awarded to the most deserving students from the component high schools in Cayuga County.
Students selected will become Emerson Scholars and have access to college planning support and ongoing advising, as well as what will amount to a debt-free two-year college education. The Emerson Scholarship will cover both tuition and fees after Federal and state aid and other scholarships have been applied to the student's account.
First-time to college students from Cayuga County. Jordan-Elbridge, Skaneateles, and Tyburn Academy students are also eligible. Recipients must be full-time and maintain a 2.5 GPA each semester to remain eligible.
PLEASE COMPLETE AND OR SUBMIT ALL BY FEBRUARY 1:
Admissions Application
Must be accepted by February 1 for consideration
High School Transcript
Letter of Recommendation (from teacher, counselor or employer)
Current resume that details outstanding community involvement, leadership, service or commitment to employment
FAFSA (Free Application for Federal Student Aid) – selection for verification by the Federal Government may delay final completion of your FAFSA
TAP Application (Tuition Assistance Program)
Cayuga's FAFSA school code is 002861. Cayuga's TAP school code is 2005.
Until funds are exhausted. Given limited funds, eligible students may not receive an award.
NYS resident tuition and fees less Pell, TAP and other Foundation scholarships; books not included; up to four semesters at Cayuga.