Lattimore Hall is a privately owned and managed apartment building in downtown Auburn. It was designed and built specifically to house Cayuga Community College students.
Lattimore Hall has an on-site professional staff to serve and support its student residents in 3, 4, and 6 bedroom fully furnished suites equipped with cable TV, and high-speed internet access.
Located in the Finger Lakes Region of New York State, Lattimore Hall is in the heart of the historic City of Auburn and within walking distance to museums, theaters, churches, shops, restaurants, YMCA, post office, banks and a Wegman's supermarket & pharmacy.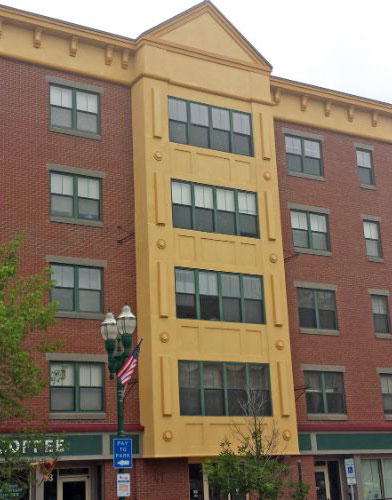 Lattimore Hall has been newly renovated and is the only modern, professionally supervised apartment facility serving students of Cayuga Community College.
Lattimore Hall is a private, quiet and secure six-story brick and masonry non-smoking facility with many safety features including an entry security system, security personnel, smoke detectors, and fire suppression sprinkler system. Coffee shop, coin-operated laundry, vending machines, and a lounge area located on the premises for your convenience.
Free Centro Bus Service shuttles students the short distance between campus and Lattimore Hall. A car is not a necessity at Lattimore Hall but parking is available.
THE
APARTMENT

SUITES

At Lattimore Hall, we want to make student living as easy and enjoyable as possible for our student residents. The only choice in student housing for Cayuga Community College students, Lattimore Hall houses 97 students, the Resident Director and the Resident Assistants in 20 apartment suites.

Each apartment suite includes either 3, 4, or 6 bedrooms with a shared full kitchen, generous living & dining room, spacious bathroom facility, wall-to-wall carpet, laminate and ceramic tile floors, mini blinds, hard-wired cable TV and internet hook-up plus Wi-Fi. All apartment suites are fully furnished with high-quality dining tables and chairs, coffee and end tables, sofas and occasional chairs and each student has a fully furnished single private bedroom/study.
SINGLE
PRIVATE

BEDROOMS

Each student has their own private bedroom/study which includes a bed, desk/bookcase, chair and wardrobe closet. Each private bedroom/study is equipped with a deadbolt lock for security and privacy and also includes its own hardwired cable TV and internet hook-up plus Wi-Fi.
UTILITIES

,

CABLE

AND

INTERNET

INCLUDED

High-efficiency gas furnaces and central air conditioning will keep your suite at a comfortable temperature throughout the year. All utilities, including cable TV, internet and Wi-Fi are included in your rent.
RESIDENTIAL

LIVING

Lattimore Hall has a professional full-time on-site Director, a live-in Resident Director, Resident Assistants and a Security Guard on its staff. We work closely with the Cayuga Community College Student Engagement and Academic Advisement staff to help our student residents adjust easily and successfully to college life.

For the safety and comfort of our residents, we have established sensible rules and regulations addressing such issues as alcohol and substance abuse, noise control, care of the facility, and concern and respect for the rights of others. Cayuga Community College students are also subject to the rules and procedures of the College's student code of conduct for their actions both on and off-campus.

So that our residents are better able to achieve their academic goals we have a quiet hour's policy in effect between 9 pm and 9 am daily from Sunday evenings through Friday mornings. During final exams week, a 24-hour quiet hour's policy is in effect.

Room assignments are made according to the housing preferences indicated on your Resident Application. We try to match students based on similar interest's lifestyles and make every reasonable effort to honor your preferences. We will not discriminate on the basis of race, color, religion, sexual orientation, creed, gender, or national origin.

Lattimore Hall is a co-educational residence Hall. Men and women may be assigned to the same floor but not to the same apartment suite.
CONTACT

LATTIMORE HALL

Lattimore Hall
81 Genesee Street
Auburn, N.Y. 13021

Phone: 315-258-3800
Fax: 315-258-9061
E-mail: info@lattimorehall.com
Website: https://www.lattimorehall.com

Lattimore Hall is privately owned and operated by Lattimore Hall, LLC in cooperation with Cayuga Community College.
The College assumes no responsibility for inspecting, approving or supervising off-campus housing. However, each landlord requesting placement on the off-campus list must sign a non-discrimination statement certifying that there will be no discrimination on the basis of race, gender, religion, national origin, age, handicap or marital status. The College will investigate any complaints of illegal discrimination. If such complaints are substantiated, the landlord's name may be removed from the housing list. See our Housing Policy.