COMMENCEMENT
CEREMONY DETAILS
TICKETS
Tickets are not required. Seating is on a first-come, first-served basis. Guests can also watch Commencement ceremonies in the air-conditioned Irene A. Bisgrove Community Theatre via a live video feed on a large screen at the front of the auditorium.
Reserved seating is available for individuals who need special accommodations. For more information, contact Patti Hamberger at 315-294-8516 or hamberger@cayuga-cc.edu.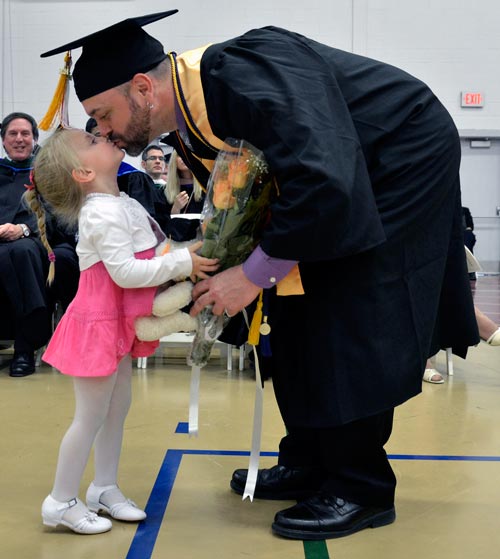 LIVE TELEVISED BROADCAST
Members of the Telcom Department will record the Commencement ceremony, which will be broadcast live on local (Auburn) Time Warner Cable Channel 12. Check the local Time Warner listing for more details.
SEATING CHART AND EVENT LAYOUT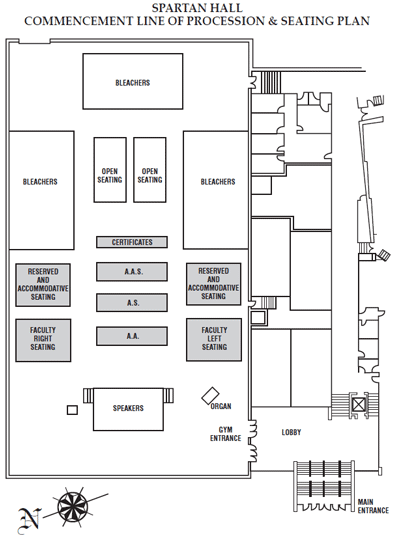 DECORUM
While a spirit of joy and enthusiasm is encouraged for this ceremony, the resolve and dignity of the occasion, which marks the accomplishment of the graduates, should be observed.
Wearing of the traditional academic cap and gown is part of the Commencement decorum and proper attire worn with the cap and gown is required.
DISABILITY INFORMATION/SPECIAL ACCOMMODATIONS
If family members or other guests have a need for limited mobility access, please contact Patti Hamberger at 315-294-8516 or hamberger@cayuga-cc.edu as soon as possible so that we can be sure to accommodate them.
Special requests for students with disabilities for the Commencement ceremony should be made to Karen Grella by emailing karen.grella@cayuga-cc.edu.
COMMENCEMENT DAY ARRIVAL AND CHECK-IN
Graduates should arrive no later than 9:30 am to check-in and fill out an alumni survey. Check-in will be in the Main Building next to "The Cube" (in front of the Nurse's Office).
Line up begins in the hallway next to President's Office starting at 9:30 am and the procession will begin at 10:55 am.
The Commencement ceremony will begin promptly at 11 am in the Spartan Hall Gymnasium.
There will be a reception in the cafeteria following the Commencement ceremony.
PARKING INFORMATION
Parking is available on the Auburn Campus lots. However, no parking is allowed in the circular drive near the front entrance. Cars must be parked in compliance with existing signs and markings.
The speed limit on campus is 15 miles per hour.
FLOWERS AVAILABLE FOR PURCHASE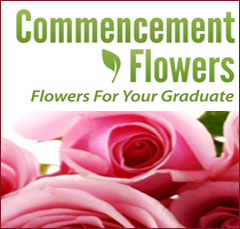 Flowers and graduation T-shirts will be available for sale in the lobby of Spartan Hall.
Graduates and guests can also pre-order and purchase flowers online. You can reserve the flowers ahead of time and have them available for pick-up at Spartan Hall at Commencement. Order your flowers here: https://www.thecommencementgroup.com/cayuga.
GRADUATION PHOTOS AND VIDEOS
Professionals from Island Photography will photograph each graduate as he or she receives the diploma cover from College President. Shortly thereafter, Island Photography will mail a photo proof and ordering information to each graduate, who are under no obligation to purchase. For more information, contact Island Photography at 1-800-869-0908, custserv@islandphoto.com, or PO Box 70, Port Washington NY 11050.
A DVD of the 2017 Commencement ceremony also will be available to graduates and their families. For more information about cost and placing an order, contact Bruce Walter, Coordinator of Technical Media Services, in L-114 on the Auburn Campus, at 315-294-8595, or at walterb@cayuga-cc.edu.
The College also encourages family and friends of graduates to take their own photos and videos and share with others on the official College Facebook page: www.facebook.com/CayugaCommunityCollege. Be sure to use the hashtag #CayugaCommencement.