Jump Start Your Career with
Microcredentials
Earning a microcredential is a great opportunity for students to build and enhance their career opportunities.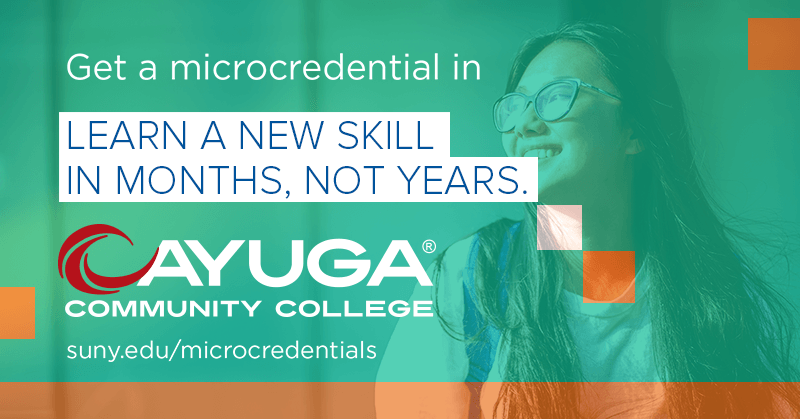 WHAT IS A
MICROCREDENTIAL?
Microcredentials are short, focused credentials designed to provide in-demand skills, know-how, and experience. Stackable microcredentials can also provide a pathway to a certificate or full degree at Cayuga, now or when you are ready.
WHO CAN EARN

A MICROCREDENTIAL?

Current students, alumni, anyone seeking to advance their career or increase their earning potential. Those needing to upskill or make a career change, or those looking to come back to the job market. Cayuga can create an engaging learning opportunity to that fits their needs. Contact Admissions today to learn more!
HOW DOES A MICROCREDENTIAL
WORK?
SUNY microcredentials often combine courses from our registered degree programs, innovative applied learning experiences, preparation for industry certifications, and/or non-credit coursework. A microcredential could be coursework alone (the most common microcredential length is three courses), a series of workshops, or a combination of coursework and an applied learning experience or certification preparation.
WHAT IS THE ADVANTAGE

OF EARNING A

MICROCREDENTIAL?

Earning a microcredential is a great opportunity for you to build and enhance your career. You can claim a digital badge to showcase your achievement after taking the required courses or conducting the required work for a microcredential.

These badges can be displayed on your personal webpage, social media pages, resume, and LinkedIn profile.
You can verify that you have specific skills highly desirable in today's employment market.
Shorter and more flexible options to improve your skills than a traditional degree program.
Allows you to showcase your accomplishments and skills with a digital badge.