STUDIO ART

& DESIGN

Cayuga can help you prepare for a broad range of careers in the arts. The program is designed for students who plan to transfer into Studio Art & Design programs at four-year colleges and universities, as well as students who are interested in working in various Art and Design-related positions.
The program is designed to give students – along with a solid liberal arts background – a strong and comprehensive foundation in Studio Art & Design, starting with a working understanding of the elements and principles of art and design. Students are also encouraged to develop their own studio practice through a balance of technical skills, problem-solving, conceptual development and experimentation. Students learn about the practical application of working in the field of art + design, and contemporary art practices.
Cayuga's faculty members are professional artists practicing and exhibiting in their specific areas of expertise. At Cayuga, students complete traditional foundation courses in drawing, painting, design and art history. During the second year of the program, students are able to explore various studio disciplines. For in-depth study, optional concentrations are available in fine arts, graphic design, painting + drawing (pending approval), photography, printmaking, and ceramics.
First Year Courses: Painting, Expressive Drawing, Life Drawing, Art History, 2D Design.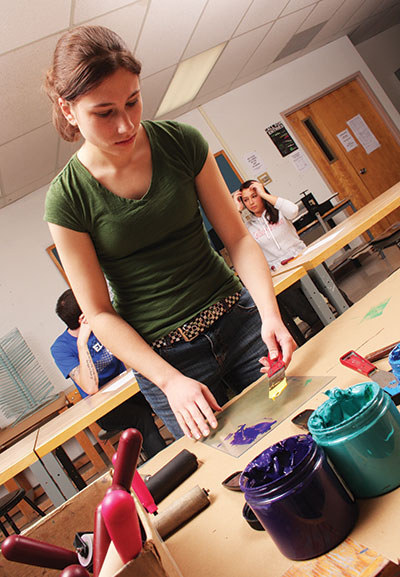 Graphic Design Concentration
Courses include: Computer Graphics, Photoshop, Digital Photography, and Screen Printing.
Painting and Drawing Concentration
Courses include: Painting II, Expressive Drawing II, and Printmaking Workshop
Photography Concentration
Courses include: Intro Photography, Photoshop, and Digital Photography.
Printmaking Concentration
Courses include: Intro Photography, Screen Printing, and Printmaking Workshop.
CAREER POSSIBILITIES
Graduates may prepare for work as professional studio artists, art educators, photographers, graphic designers, art therapists, community arts program directors, studio assistants, art critics, gallery directors, museum curators, as well as many other possibilities.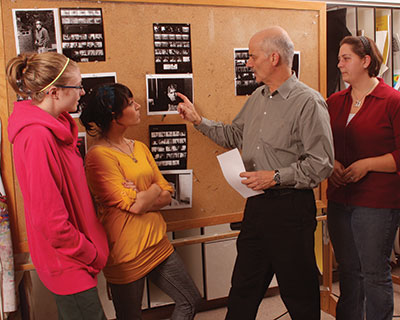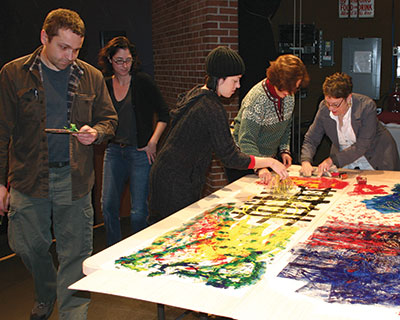 FACILITIES AND EQUIPMENT
Students have access to high-end facilities and equipment, including a traditional studio setting for drawing, painting, ceramics (electric pottery wheels and electric kilns), printmaking (printing presses and screen printing exposure unit), and photography (traditional dark room), as well as a digital lab with state-of-the-art computers, scanners and printers, available to all of our students to explore contemporary approaches to working within each medium.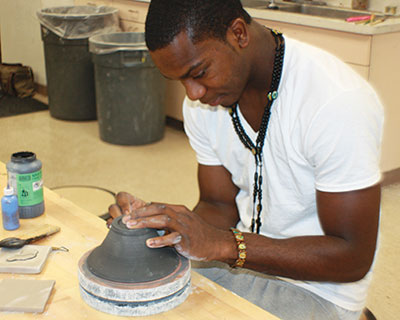 STUDENT EXHIBITIONS + EXPERIENTIAL OPPORTUNITIES
Art exhibits created by Studio Art + Design students, faculty and visiting artists are shown in campus display case space, as well as the lobby space. Our faculty work to find new opportunities for students to get involved in community arts activities, experiential and service learning projects, as well as opportunities for them to exhibit their own work and learn about organizing exhibits. Some of the community organizations Studio Art + Design has partnered with include the Schweinfurth Memorial Art Center, Cayuga County Chamber of Commerce, as well as several non-profit organizations. Students have the opportunity to become more involved in the arts through the art club.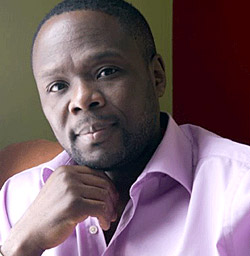 VISITING ARTISTS
Faculty invites professional artists to lecture, demonstrate advanced approaches in their chosen discipline, and critique student artwork.
In 2012, Cayuga welcomed our Brunell Visiting Scholar — the world-renowned musician, humanitarian, and photographer Samite Mulondo.