PERFORMING ARTS:
THEATER
THEATRE IS ALIVE AND VITAL AT CAYUGA
The Auburn Campus features two different performance spaces; the Irene A. Bisgrove Community Theatre and the Black Box Theatre. Harlequin Productions is the award-winning performing company where students can experience every facet of producing live theatre. In addition to Harlequin's two productions a year there is an active theatre scene in the Auburn community where students can increase and further hone their skills.
FACILITIES AND EQUIPMENT
Cayuga's newly renovated 424-seat Bisgrove Theatre features some of the latest technologies in lighting and sound equipment. Students will have instruction and hands-on access to all of this state-of-the-art gear, as well as a Black Box Theatre where students can experiment in an intimate environment as they learn their craft. Two 8-station dressing/make-up rooms and a modest scene shop complete the complex. On campus there is also a full working television studio where students can work in front of and behind the camera.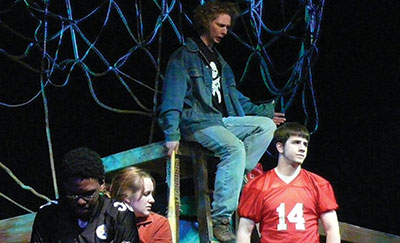 THEATRE CONCENTRATION
Courses include: Introduction to Theatre, Introduction to Technical Theatre, Basic Acting, Shakespeare, The London Theatre, and Creating a Character.
This concentration is designed for students who plan to transfer into theatre programs at four-year colleges and universities, students who are interested in a theatre background as a basis for careers and majors in the liberal arts or in business, and students who are interested in obtaining practice working in theatre as actors, directors, and technicians.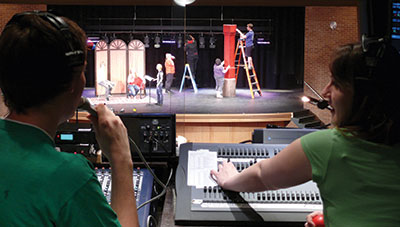 CAYUGA'S HARLEQUIN PRODUCTIONS
Harlequin Productions has received numerous awards for their work from both the American College Theatre Festival and the Theatre Association of NY State.