This program is designed for students who wish to seek employment in the field of human services and/or transfer after graduating.
Students learn the basic knowledge, techniques, and ethics of the helping professions and gain valuable experience by completing internships at local social service agencies.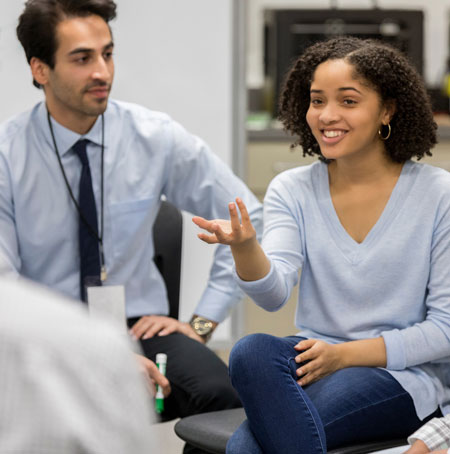 PROGRAM
LEARNING OUTCOMES
Identify various types of human service organizations and their roles and mission.
Demonstrate knowledge of the frameworks, models, and intervention strategies in the delivery of services.
Demonstrate as appropriate, the helping skills utilized in human service fields.
Apply a critical awareness of ethics and the social, economic, and cultural forces that impact individuals, families, and communities.
Exhibit professional competency by successfully completing internships.
CAREER

POSSIBILITIES
Social Workers
Social and Human Service Assistants
School Counselors and Psychologists
Marriage and Family Therapists
Teacher Aides or Assistants
Parole/Probation Officers
Counselors in Substance Abuse, Behavioral Disorders, and Mental Health
Community Health Workers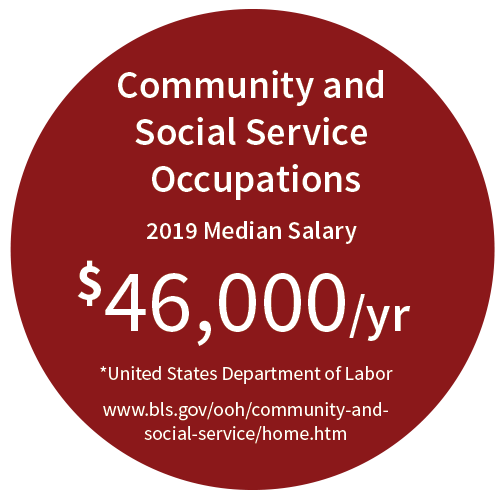 GENERAL

INFORMATION

The Human Services A.S. degree prepares students to enter the human service field. This program also provides concentration options for those who may wish to focus on Social Work, Human Services, or transfer. Transfer students can earn a Baccalaureate degree in a related field by providing professional and general education courses that parallel the first two years in a four-year institution. Students learn the necessary knowledge, techniques, and ethics of the helping professions and gain valuable experience by completing internships at local social service agencies.
TRANSFER

INFORMATION

Students planning to transfer into a four-year degree program in Human Services or a related field of study should contact their advisor, the Coordinator for Transfer and Articulation in the Centers for Student Engagement and Academic Advisement, or the Human Services Program Coordinator to plan the most appropriate course sequence for optimum transferability.

Cayuga offers several articulation (transfer) agreements with four-year institutions including:
DEGREE

REQUIREMENTS

The curriculum listed on this page is required for the AS degree in Human Services. Transfer credit for Human Services will only be granted after transcript review by the Division Chair.

Candidates for the AS in Human Services must meet the following requirements:
Completion of all required credits – 62-63 total
Cumulative average of no less than a 2.0
Degree requirements for the Human Services A.S. program
COURSES
CREDIT HOURS
FIRST SEMESTER
ENGL 101
Freshman English I
3
HS 101
Introduction to Human Services
3
PSY 101
Introduction to Psychology
3
SOC 101
Introduction to Sociology
3
Elective
3
15
SECOND SEMESTER
ENGL 102
Freshman English II
3
HS 102
Human Service Theory
3
MATH 121
OR
MATH 214
Fund Statistics Tech
OR
Statistics
3
PSCI 102
American Government
3
Elective
3
HLTH or PE Elective
1
16
THIRD SEMESTER
ENGL 220
OR
ENGL 221
OR
ENGL 222
Interpersonal Communications
OR
Effective Speech: Public Address
OR
Effective Speech: Group Discussion
3
General Education World History and Global Awareness
OR
General Education The Arts
3
General Education Science Elective
(recommend BIOL 100: Human Biology)
3-4
HS 105
Human Services Internship & Seminar
2
Elective
3
14-15
FOURTH SEMESTER
HS 106
Human Services Internship Seminar
2
General Education History Elective
3
General Education Liberal Arts Elective
3
Elective
3
Elective
3
Elective
3
17
TOTAL CREDIT HOURS
62-63
HUMAN SERVICES A.S.
CONCENTRATIONS
Students in the Human Services A.S. program may select one of the following concentrations to complete degree requirements. Curriculum requirements for each are listed below.
When planning your schedule, carefully note prerequisites, course sequencing, and availability of courses.
To plan the most appropriate course selection, you should consult with your intended four-year transfer institution.
CORRECTIONS/PAROLE
The following courses must be completed:
COURSES
CREDIT HOURS
CJ 111
Introduction to Justice Systems
3
CJ 121
Institutional Corrections
3
CJ 213
Community Corrections
3
SOC 105
Deviant Behavior
3
ENG 270
Technical Writing
3
DRUG AND ALCOHOL REHABILITATION
The following courses must be completed:
COURSES
CREDIT HOURS
PSY 220
Psychology of Alcohol, Drug Use & Abuse
3
PSY 221
Assessment, Evaluation & Treatment
3
SOC 110
Race and Ethnicity
3
SOC 105
Deviant Behavior
3
EDUCATIONAL SUPPORT
The following courses must be completed:
COURSES
CREDIT HOURS
PSY 217
Introduction to Children with Exceptionalities
3
PSY 215
OR
PSY 216
Child Psychology
OR
Adolescent Psychology
3
SOC 110
Race and Ethnicity
3
EDU 202
Foundations of American Education
3
SOCIAL WORK
The following courses must be completed:
COURSES
CREDIT HOURS
PSY 206
Abnormal Psychology
3
PSY 212
Development Psychology - Life Span
3
PSY 215
OR
PSY 216
Child Psychology
OR
Adolescent Psychology
3
SOC 110
Race and Ethnicity
3