LATEST CAYUGA
NEWS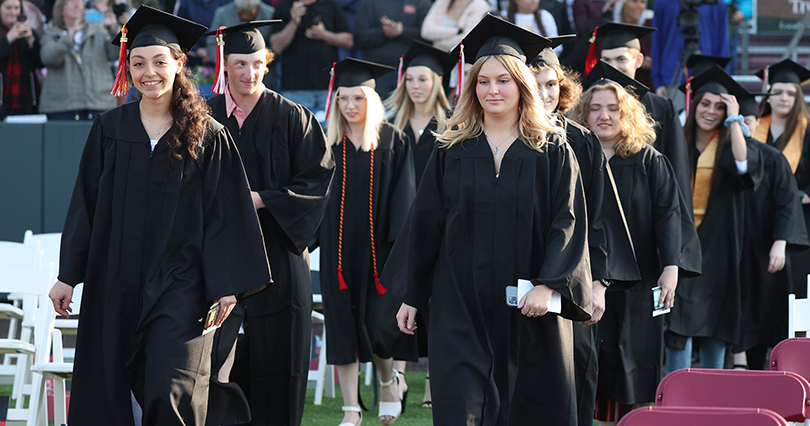 Cayuga Community College celebrated its Class of 2022 on Thursday, with College leaders lauding the graduates for making an unforgettable mark at Cayuga after earning their degrees amid the COVID-19 pandemic.
College leaders, staff and faculty joined graduates' family and friends at Falcon Park in Auburn for the ceremony, which marks Cayuga's return to an in-person ceremony and the first Commencement held at the field. Cayuga's ceremonies for the Classes of 2020 and 2021 were held virtually due to the pandemic.
"Without a doubt, the Class of 2022 is one of the most remarkable in the history of Cayuga," said President Dr. Brian Durant. "They were determined to earn their degree and prepare for their future, and they didn't allow a generational pandemic that changed every part of their lives and their education to stop them. We are beyond proud of their accomplishments, and we are confident they are ready to begin or continue the careers they've chosen."
"The Class of 2022 has an incredible story. Almost all members of this accomplished group started their Cayuga experience during the pandemic, and despite a completely unexpected college experience of online learning and virtual student activities, they refused to quit," said Cayuga Board of Trustees Chair Marian Brown. "We know they are ready for whatever comes next, whether it is the next step in their education or the next challenge in their career."
"I'm honored to represent the Cayuga County Legislature and our employees to recognize the Cayuga Community College Class of 2022. As the Chair of the Legislature, I wish them nothing but success in the years ahead," said Legislature Chair David Gould.
Graduates earned Associate in Arts, Associate in Science, and Associate in Applied Sciences degrees and certificates from the 33 degree programs and 10 certificate programs available at Cayuga.
Student speakers for the ceremony were Caitlyn Major, who earned an Associate in Arts in Liberal Arts and Sciences: Humanities and Social Sciences, and Taylor Hunter, who earned an Associate in Science in Liberal Arts and Sciences: Mathematics.
The College also celebrated employees who received awards this semester. Dr. Sharon Coolican, Professor John Lamphere and Professor Diana Valdina received Professor Emeritus status, which is awarded by the College's Board of Trustees.
Cayuga Professor Dr. Christopher D'Arcy received the Chancellor's Award for Excellence in Teaching, and Division Chair and Professor Eric Zizza received the Chancellor's Award for Excellence in Faculty Service. Assistant Director of Financial Aid Lisa Jo Greenfield received the Chancellor's Award for Excellence in Professional Service, and Payroll Systems Specialist Karen Wheat received the Chancellor's Award for Excellence in Classified Service.
A recording of Commencement will be available at the YouTube page for the College's School of Media and the Arts, https://www.youtube.com/channel/UCbvtobVuFPd-dkrIThuYqgg.
OTHER NEWS
« Cayuga Faculty, Staff Honored with SUNY Chancellor's Award for Excellence
Governor Hochul Announces Expansion of Educational Opportunity Program to Cayuga, other Community Colleges »