LATEST CAYUGA
NEWS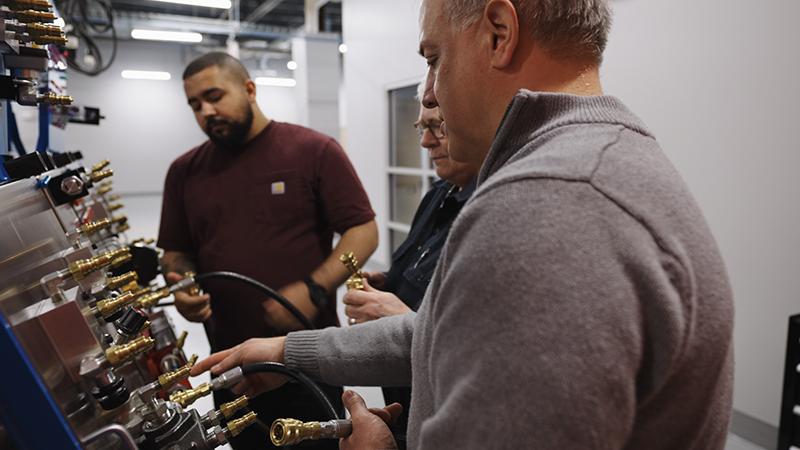 Cayuga Community College and its regional partners are hosting an event in Auburn next week showing local students and their families the career potential in the manufacturing industry.
The College is teaming up with Cayuga-Onondaga BOCES, the Auburn Enlarged City School District and manufacturing leaders for the career- and education-focused Advanced Manufacturing Expo for Families. The expo is scheduled for Wednesday, June 7, from 6-8 p.m. at the Advanced Manufacturing Institute on Cayuga's Auburn Campus.
The June 7 event is one of several initiatives launched by Cayuga and its community and industry partners to show how the regional growth in manufacturing opened new career pathways for students, said Dr. Keiko Kimura, Cayuga's Vice President of Workforce Development and Partnerships.
"The manufacturing industry in Central New York and our surrounding regions has experienced a resurgence over the past several years with innovative ideas and products. The foundation for their success is a highly-skilled, expertly-trained workforce, and that's where Cayuga and our partners in the education community come in," said Dr. Kimura. "This expo will show students and their families the career possibilities in advanced manufacturing, and the training that's available at Cayuga to connect students to those careers."
Students attending the expo will discover training opportunities and degree programs at Cayuga, tour the College's state-of-the-art Advanced Manufacturing Institute, and connect with employers and industry experts. Participating manufacturers include Avstar Fuel Systems, EMCom Inc., IDE Machine Company, ITT Goulds Pumps, and Nucor.
Cayuga has a long-standing commitment to supporting the manufacturing industry in Central New York. Its Advanced Manufacturing Institutes on the Auburn and Fulton Campuses offer hands-on training opportunities in areas such as hydraulics, pneumatics, motor controls, electrical technology, industrial maintenance and more. The College offers multiple degree pathways connected to advanced manufacturing, as well as short-term trainings for those looking to upskill in specific areas.
Students interested in attending can RSVP to the College's Office of Community Education and Workforce Development at 315-294-8841. The expo is open to any student in the sixth grade or higher and their family.
For details on Cayuga's manufacturing-related degree programs, visit https://www.cayuga-cc.edu/academics/schools/stem/.
OTHER NEWS
« Three graduates receive Cayuga Alumni Award
Cayuga Celebrates Class of 2023 in Commencement at Falcon Park »