LATEST CAYUGA
NEWS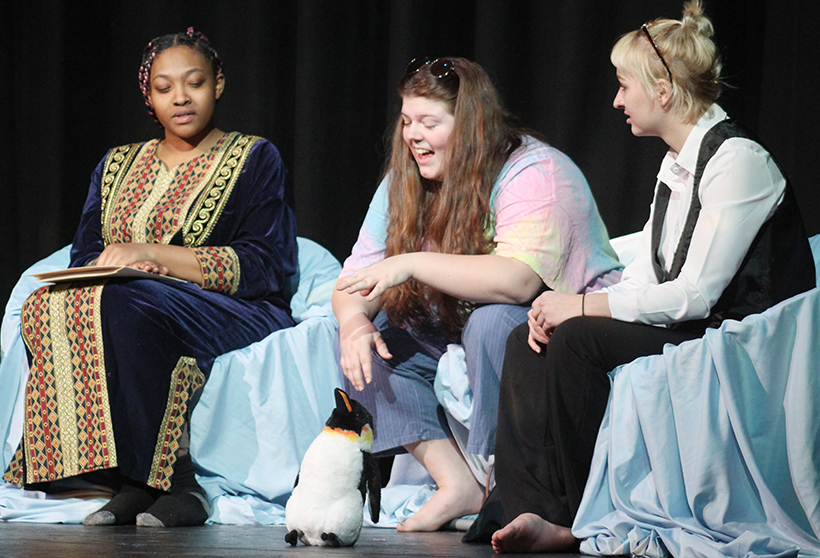 Cayuga Community College's student theatre group promises a spring production starting this week that takes a lighthearted look at celestial beings and the haphazard havoc they create in people's lives.
Harlequin Productions, the College's award-winning student theatre troupe, is performing five one-act plays this spring, entitled "Odd Jobs: Comic Work and Cosmic Wonders." The comedic production portrays ethereal characters and their chaotic, amusing behavior and impact across five separate stories.
Performances start Thursday, March 9, and continue March 10-11 and March 16-18. All shows begin at 7:30 p.m. at the Irene A. Bisgrove Theatre on Cayuga's Auburn Campus.
Harlequin Productions Director Bob Frame said the Spring 2023 show is a marked transition from the Fall 2022 show, which tackled a 1966 tragedy at the University of Texas. Where the Fall 2022 show challenged students to accurately portray real individuals, "Odd Jobs" asks students to use their imagination to make fictional celestial characters relatable.
"This is a challenge for us, to find the realism of things and beings that don't exist, who are more of a cosmic lark," said Frame. "Fortunately, the scripts have strong characters and dialogue, and our student cast and production crew have adapted well to the challenges presented in the scripts and in the change in tone from our last production."
The first play, "Genesisters," shows four female celestials who are combatively collaborating to create a world, including arguing over everything from the shape of the planet to the first bird they should create. In the second play, "Every Seven Minutes," two beings capriciously cause chaos in people's lives by introducing random acts and thoughts for the title duration.
The third play, "The Waiting Room," shows people anticipating events, both hoped for and dreaded, and the being who decides when these events occur by pressing a button. In the fourth play, "Taking Sum Lumps," people who break a mirror decide how they want their bad luck doled out — all at once or spread out over seven years.
The first four plays are written by Ken Preuss. The fifth play, "The Plumber's Butt," is written by Jay Huling and tells the story of two characters who are in pain and how they could be healed.
Student cast members are Adam Birtwell, Tessa Higgins, Rephayah Israel, Mary Nila and Kadrian Rossbach, with community members Dylan Bianco and Kyleigh Walton joining the production. Student crew members are John Bonsignore, Leila Gardooni and Mythos Wellington.
For more details on Harlequin Productions, visit https://www.cayuga-cc.edu/students/student-life/harlequin/.
OTHER NEWS
« Cayuga Students Earn Scholarships from New York State Sheriffs' Association
Inspirational Art Exhibit Coming to Cayuga's Auburn, Fulton Campuses »