LATEST CAYUGA
NEWS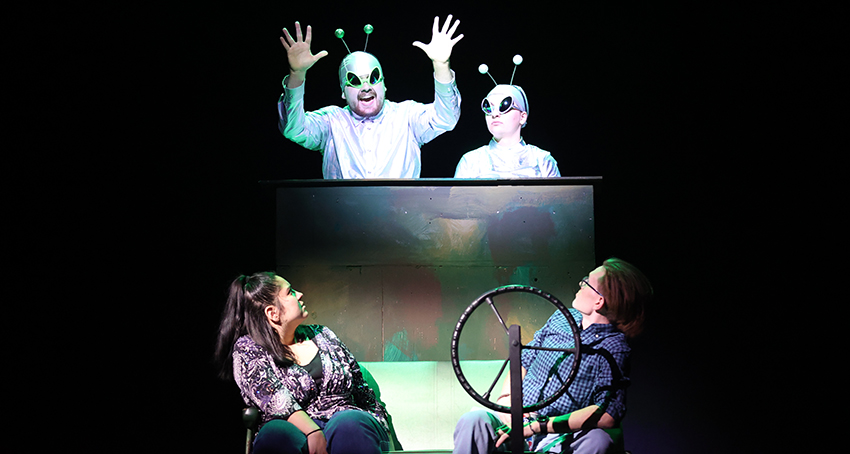 Cayuga Community College's student theatre troupe returns to the stage this month to explore the humorous side of dating, relationships and marriage.
In "Finding Love: The Good, the Bad and the Silly," Cayuga's Harlequin Productions will perform eight one-act plays showcasing relationships in comedic moments. Performances are scheduled for 7:30 p.m. Oct. 19-21 and Oct. 26-28 in the Irene A. Bisgrove Theatre on Cayuga's Auburn Campus. Tickets can be purchased at the door.
Director Bob Frame described the one-acts as lighthearted comedies, chosen for their common themes and the opportunities the roles presented students.
"These are plays that are all about relationships in various stages. They address serious parts of dating, relationships, and marriage, but there's a silly or exaggerated aspect to them. I think that highlights the comedy even more," he said.
Most of the one-acts feature relationships in awkward situations, including R.A. Pauli's "Blind Date," where a date becomes more complicated when one party brings their "emotional maturity coach" along for dinner. "Buki, Buki, Buki," by John J. Kelly, shows a married couple whose drive in the country is interrupted by two extraterrestrials, while "Put Asunder" by James McLindon shows several unexpected, unwanted guests visiting a woman on the day of her wedding.
Selecting eight one-acts gave the students plenty of opportunities to perform, said Frame.
"Each student performs in two plays, which gives them a chance to explore different emotions and situations from play to play," he said. "The characters are roles that our students can enjoy, but there's a challenge in juggling multiple characters across multiple plays. They're handling that challenge well."
The cast includes Dylan Bianco, Adam Birtwell, Cameron Bouchard, Hope Campbell, Tessa Higgins, Jenna Nila, Mary Nila, Tristan Nolan, Alex Reuter, Kadrian Rossbach, Kylah Rossbach and Kyleigh Walton. Cayuga student John Bonsignore is serving as stage manager for the production.
For more information about Harlequin Productions, visit https://www.cayuga-cc.edu/students/student-life/harlequin/.
OTHER NEWS
« Student Showcase: Analysa Landes
Cayuga's Walters Receives WCNY Music Educator Award »