LATEST CAYUGA
NEWS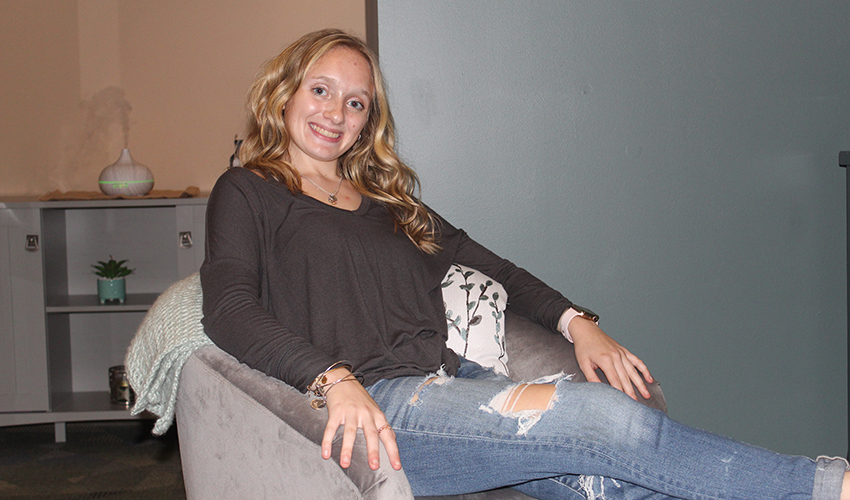 If you've been to an event at Cayuga's Fulton Campus, chances are Analysa Landes was there, encouraging you to take care of yourself and your mental health.
The Paul V. Moore High School graduate is omnipresent at the campus, constantly helping at the College's Wellness Center and urging others to utilize the Center's services to help themselves in the classroom and in their lives off-campus. It's a role she takes seriously each day.
That desire to help people is what drives Analysa, who is a Health Sciences major with a concentration in radiation therapy. She started working at the Wellness Center in the spring of 2023, and is now President of the College's Wellness Club. It puts her in the best possible position to help other students in any way she can.
"Helping people is probably what's most important to me, but I look at that from a wider perspective: How can I help people and at the same time bring awareness to things that I feel are important, like mental health? That's important to everyone, whether we acknowledge it or not," she said.
Though she was always interested in a career in the medical field, Analysa traces her decision to pursue a degree in Health Sciences back to her mom's battle with cancer. After watching her mom endure several rounds of radiation therapy, she decided she wanted to be there to help other people whose loved ones are enduring the same experience.
"I wanted to give back after my mom had 10 rounds of radiation. She sheltered me as much as she could when she was receiving treatment, but watching what she went through solidified my decision that helping people and families in the same situation we were in is what I want to do," she said.
She found a supportive environment at Cayuga, thanking professors like Rob and Joel Humphrey for caring for her and other students who are experiencing challenging situations. That atmosphere confirmed for Analysa her decision to attend Cayuga, which she said initially appealed to her because of the smaller class sizes and the ability to build connections with staff, faculty, and other students.
Now in her third semester and on track to graduate from Cayuga in the spring of 2024, Analysa is hoping to transfer to Upstate Medical University, where she'll continue studying radiation therapy. She just started volunteering at Upstate's Cancer Center.
"I wanted to volunteer anywhere I was needed at Upstate, and it just happened that they asked me to help at their Cancer Center," she said. "It's an incredible opportunity and one that I take seriously. I'm glad that I'll have the chance to help in any way that I can."
OTHER NEWS
« Student Showcase: Jorge Jimenez
Cayuga's Harlequin Productions Returns with Lighthearted Comedies »