LATEST CAYUGA
NEWS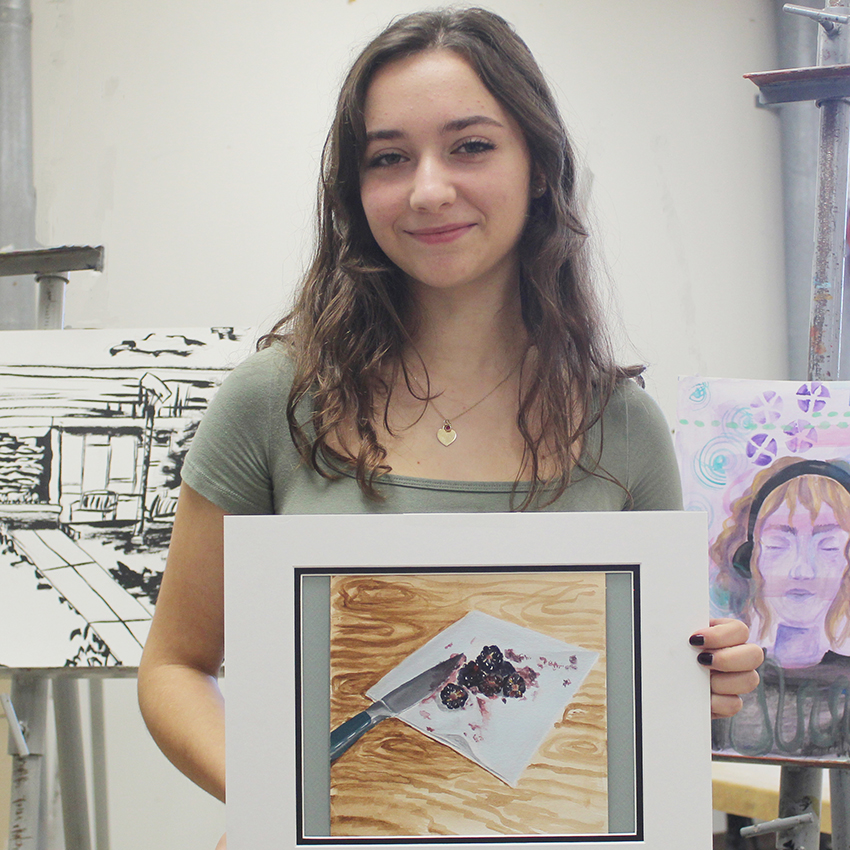 Whatever Olivia Koffler does next with her life, it's a good bet it will be something creative.
Olivia has immersed herself in the artistic offerings at Cayuga since first arriving at the school in the fall of 2022. She can often be found in the Studio Art & Design classrooms, working on her own paintings or exchanging ideas with other students with similar interests.
Developing her artistic ability wasn't necessarily the plan when she chose Cayuga to start her college education. In fact, she arrived at the College unsure of what she wanted as a career — and found an environment that encouraged students to explore.
"I wasn't really sure what I wanted to do. I liked that Cayuga afforded me the time to think about what I want to do, to try different things out. Like art — I wasn't that interested in art in high school, but I've become more interested in it here," she said. "At the same, I can keep earning credits toward a degree while I think about what I want to do after Cayuga and as a career."
Credits aren't something Olivia had to worry about much at Cayuga. After earning numerous college credits through programs at Union Springs High School, and developing an understanding for the expectations of college courses, she's on the fast track to graduate this fall after only three semesters.
Though she's earning her degree in Liberal Arts and Sciences: Humanities and Social Sciences, Olivia has developed a passion for art thanks to classes with Professor Melissa Johnson and Instructor Jane Darovskikh.
"Art helps me understand what happens in the world. I can translate what I see into something else, or take something that's naturally beautiful and incorporate that into my work," she said. "With the smaller classes at Cayuga, the professors are able to give you more attention and help you when you need it."
Her talent has drawn attention in the college community as well, with the College Foundation featuring her work on the program cover for a fundraising event this summer. Last spring she channeled her interest in art into a one-day portrait class she led at Mozaic, a non-profit organization that provides services for persons with intellectual or other developmental disabilities.
She said the experience, which was part of her work with the Cayuga Art Club, allowed her to share her appreciation for art and painting.
With only a few months to go at Cayuga, Olivia is looking ahead to her next opportunity. She's considering transferring to a four-year SUNY university, probably to study art or music therapy.
OTHER NEWS
« Enjoy Baklawa & Holiday Cheer at Cayuga's Culinary Institute with Celebrity Chef, PBS Host Julie Taboulie®
State Theatre Association Celebrates Harlequin Productions' Fall Performances »