LATEST CAYUGA
NEWS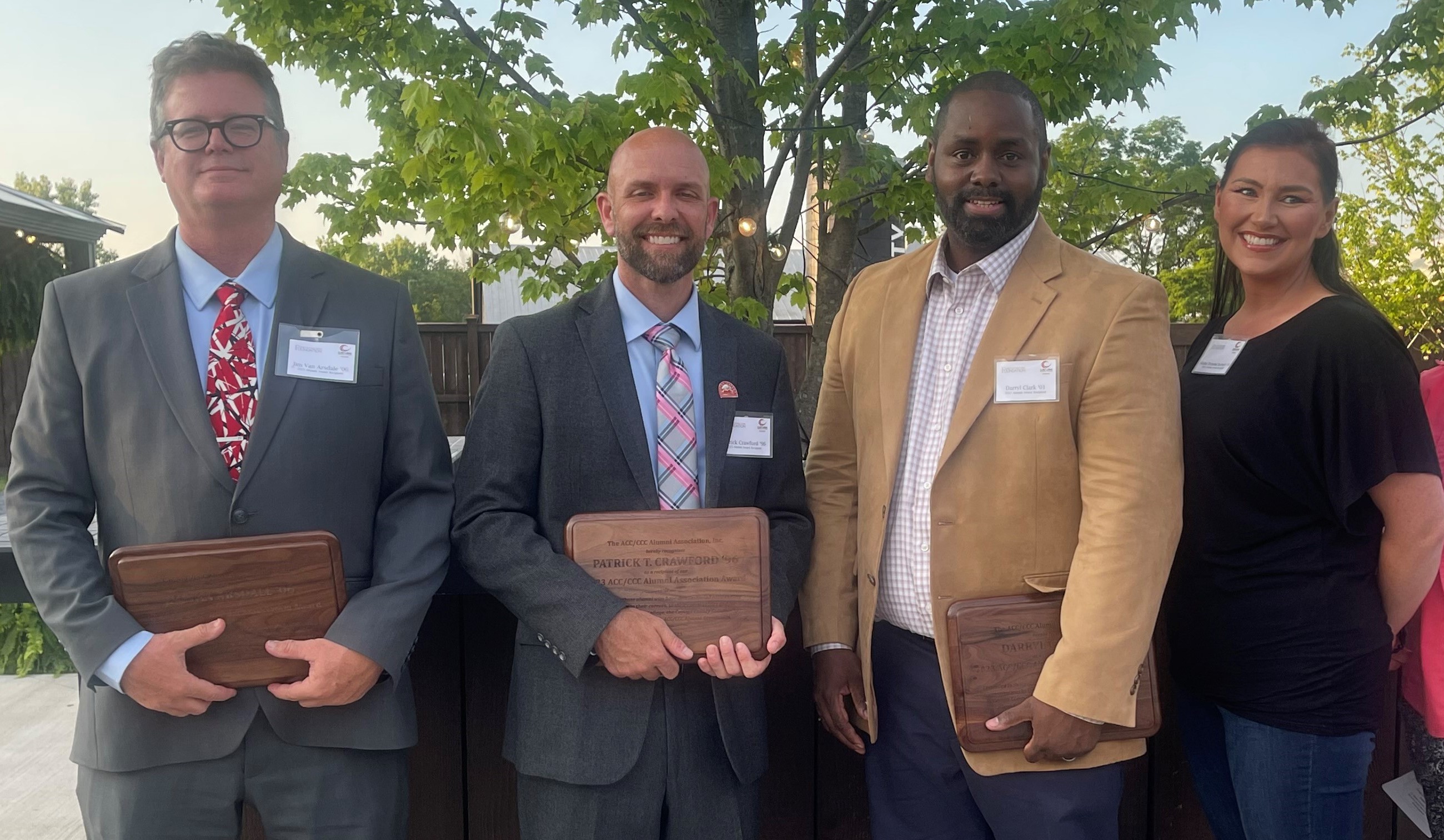 Thirty years ago, the Auburn Community College/Cayuga Community College Alumni Association created an award to recognize the achievements of alums that have made and continue to make a difference in our community, nation and world.
The Alumni Association recently recognized its 2023 nominees at a reception and awards ceremony held at Prison City North and attended by the nominees, their nominators, families and friends. The attendees were entertained before the program by students from Perform 4 Purpose, co-founded by one of the three awardees, James Van Arsdale '06.
Alumni Board President and Foundation Board Member Amanda Stankus '03 told those in attendance, "It is fascinating to learn about the myriad of paths Cayuga graduates have taken and how they are working to build a better community."
"This year's group of inductees are all the more special, because weaving throughout the Class of 2023 are three people who have made it part of their mission to work with young people and just as importantly raising funds for local charities, whether it comes to helping those in need, youth programing or the arts. What a great and noble group," said Foundation Board President John Latanyshyn."
This year's inductees were:
DARRYL CLARK '01
Darryl Clark, a 2001 graduate, went on to Duquesne University to play Division 1 Football and Track while obtaining his bachelor's degree in Multi-Media Arts. He traveled to Germany to play semi-pro football before returning to Auburn.
Mr. Clark has built several studios from the ground up, including AVP Unlimited, an audio, video and photography production facility in Auburn. He is now using his many years of expertise in the music industry as VP of AllVibez Entertainment, an artist management company. Under him, the artists receive helpful guidance and have seen successes such as appearing on The Ellen Show and the Today Show, millions of followers on Tiktok, and recently, an artist signing a record deal with Republic Records.
On top of all of this, he has started another business called DC Arcades, where he builds virtual pinball machines from a design of his own invention. He and business partner Daryl King created The HideOut, a safe gaming place for kids to have fun and socialize. Located in Aurelius, the facility hosts gaming tournaments, parties and outdoor events. They have created a youth volunteer program, HideOut Helpers, that rewards participants while providing opportunities to help build their customer service skills.
Nominator Tiffanie Clark wrote, "Through a combination of his knowledge, creativity and vision, he singlehandedly created a positive outlet for local rap and R&B artists to pursue their talents."
Mr. Clark organizes various charitable community events throughout the year, including a coat drive to collect winter wear for distribution through the Auburn Rescue Mission. He also serves as Co-Chair of the Board at East Hill Family Medical
PATRICK CRAWFORD '96
Auburn native Patrick Crawford is a 1996 graduate. Following graduation, he earned his B.S. in Biology from SUNY Geneseo and M.S. in Education from SUNY Oswego. He has taught at the Auburn Enlarged School District since 1999.
In 2018, Mr. Crawford was selected as the Cayuga Onondaga School Board Association Teacher of the Year. He was also selected as the New York State Master Teacher for the Central New Region, requiring a four-year commitment to participate in professional developed to increase his STEM pedagogical knowledge.
In 2019, he began a five-year fellowship with the University of Rochester's Warner School of Education Noyce Program. This program includes a combination of coursework and mentored field experience to develop expertise in digitally-rich STEM teaching and leadership. Upon graduation, Mr. Crawford will receive two advanced certificates in Digitally Rich Teaching and Teacher Leadership.
Mr. Crawford's award nominators, Allison '23 and Patrick Crawford, Jr. (planned '25 graduation), who introduced him at the event said, "Not only is he a dedicated educator, he is also a lifelong learner. He is a role model who leads by example and has spent much of his time giving back to the community."
A member of Knights of Columbus Council #207 for nearly 30 years, Mr. Crawford served as Deputy Grand Knight for two years and Grand Knight from 2010 - 2013. For the last three years he's served on a committee called "Operation Enduring Gratitude," raising funds to send World War II, Korean War and Vietnam veterans on an all-expenses paid trip to Washington, D.C.
Together with Brian Scanlan and the Auburn Fire Department, he co-led the team to bring the St. Baldrick's Fundraiser to Cayuga County and, over the course of six years, raised $516,673 to help in the fight against childhood cancers.
JAMES VAN ARSDALE '06
Jim Van Arsdale is a 2006 graduate who returned to college after a 20-year career in the business field that included owning a Domino's pizza franchise and working as a Service Manager for the Fox Auto Group.
He earned his bachelor's in Educational Science in 2008 from SUNY Oswego and completed his master's in the Integration of Technology in the Classroom through Walden University in 2012. He has been an elementary teacher at the Moravia Central School District for more than 15 years.
Mr. Van Arsdale is the Co-founder & Program Director of the non-profit organization Perform 4 Purpose, which has just reached a goal of helping to raise $1 million for local nonprofit organizations.
Mr. Van Arsdale is also a Board Member and volunteer with Tomatofest, Sports 4 All, and the Auburn Chamber Orchestra. He mentors in music education at Auburn Public Theater, where he advises with several music programs. Mr. Van Arsdale is the President of the Moravia Teachers Association and is a Board Member for the Auburn Enlarged City School District.
Mr. Van Arsdale has earned several awards, including the NAACP's Nonprofit of the Year in 2018, Kiwanis Service to Youth award in 2019 and the Tri-M Music Honor Society in 2023.
Nominator Debra Minturn Delaney said, "As a valued member of our community, Jim has made it his own personal mission to bring a sense of well-being to so many people's lives, whether it be in the form of his unique educational teachings, the joy of music through his many musical outlets or his volunteerism that brings experience, knowledge and passion to every table he takes a seat at. An encounter with Jim leaves a respectable lasting impression that brings an appreciation of his value into their lives."
The three were also joined by Alisha Dymond Burnett '09, a flight nurse in Florida, who was a 2022 Award recipient but could not attend last year's ceremony.
The inductees made it clear at the Prison City event that their foundation and successes at Cayuga Community College laid the groundwork for their future successes.
Nominations for the 2024 Alumni of the Year Awards can now be made with more information on the College's website at: Nominate an Alumnus.
OTHER NEWS
« Cayuga Honored Again for Service to Military-Affiliated Students, Families
Expo at Cayuga to Show Students, Families the Career Potential in Advanced Manufacturing »