LATEST CAYUGA
NEWS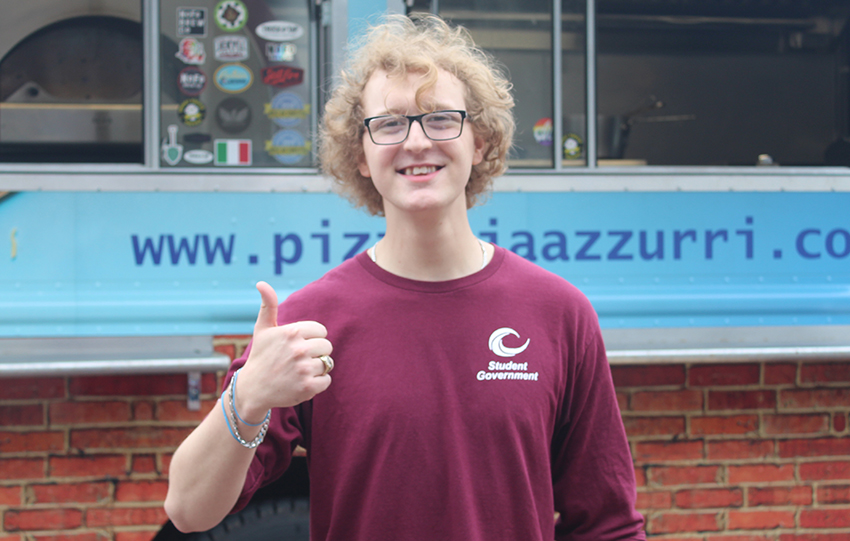 Early in his time at Cayuga, Zach Ingersoll decided he had two goals — to earn his degree, and to help his fellow students enjoy their college experience.
Now in his third semester, the Hannibal High School graduate has done just that, excelling in the classroom and participating in Cayuga's student activities. His involvement on-campus — there's rarely a student event in which he doesn't participate — has helped him adapt to life as a college student and learn about the people around him.
"One of the best things I've found at Cayuga is that it's the right place for me to test the waters of life as a college student — understanding the responsibility that comes with being a college student, and in getting involved on-campus," he said. "The events that we've been a part of, I've had the chance to meet musicians and performers who visit campus and hear their stories, and the stories of other students at these events. That's one of my favorite parts of being a student here."
Zach's commitment to being involved on-campus started early at Cayuga. At his freshman orientation in the fall of 2022, he decided to participate in organizing events, particularly to push for more events at the Fulton Campus. Zach joined Student Government (SGO) that semester, and one semester later was voted SGO President for Spring 2023 and Fall 2023.
It's a responsibility he takes seriously, but never to the point where he fails to enjoy life as a student.
"It can be stressful, helping organize, plan and schedule events. But it's great experience and it's an opportunity to help other students stay involved and enjoy their time here," he said. "I wanted to give students a chance to relax and get to know each other. At the same time, learning and practicing the organizational skills needed to plan these events should help me with my career after I graduate."
Leadership and organizational experience are things Zach expects he'll need moving forward once he graduates this spring with a degree in Business Administration. He's exploring several options for his future, including continuing his education or starting a café.
The café would focus on creating a welcoming environment, just like he helps do each day at the Fulton Campus.
"I'd want that to be a safe space for people, where they can enjoy themselves and I can get to know them," he said. "Meeting people and hearing their stories, those are two things that I value a lot."
OTHER NEWS
« Cayuga's Walters Receives WCNY Music Educator Award
Cayuga's Speaker Series Spotlights Local Author's First Novel »