HOW TO
RESET YOUR PASSWORD
Follow these instructions to reset your Cayuga account password.
If you still have trouble, contact the college IT Help Desk at (315) 294-8568 or email helpdesk@cayuga-cc.edu. Be sure to include your Cayuga C-Number (example: C01234567) in your request so we can quickly help you.
---
STEP 2: Verify your Cayuga account using the Microsoft Authenticator app or other authentication method you set up for multi-factor authentication.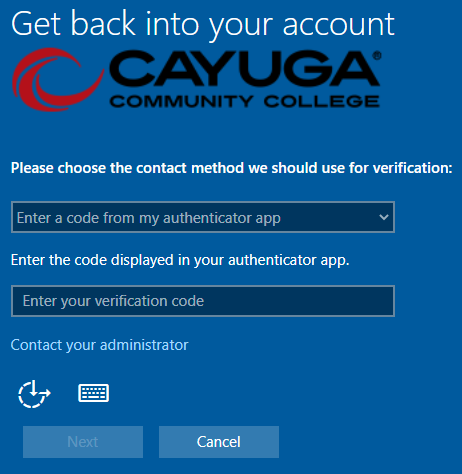 STEP 3: Choose a new password with a minimum of 12 characters. Avoid simple passwords to prevent password change rejections.
We recommend using a "passphrase" instead of a simple password. For suggestions, check out https://www.useapassphrase.com/.
We recommend using a mobile app like Bitwarden or LastPass to create and securely store strong passwords for all your accounts.