LATEST CAYUGA
NEWS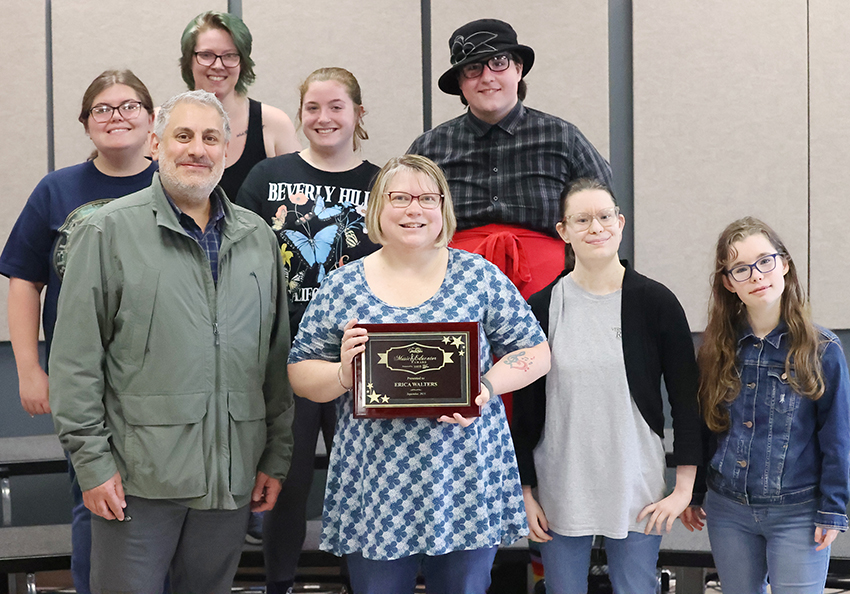 A Cayuga Community College instructor who dedicated her career to teaching students how to appreciate music and express themselves musically was recently honored by WCNY.
Cayuga's College Chorus Director Erica Walters was named the Classic FM Music Educator of the Month for September, and is the first recipient of the award from a Central New York college or university. The award recognizes educators throughout the region who are dedicated to the performing arts and have a strong influence on students.
WCNY started the award in 2022 in recognition of the station's 50th anniversary. The award is sponsored by Symphoria, the Syracuse Friends of Chamber Music and Hamilton College.
"I'm honored that my students thought highly enough of my work with them to take the time and effort to nominate me for this award," said Walters. "Looking back, my teachers were the ones who made a lasting impact on me, especially my music teachers. This makes me feel like what I'm teaching and the work we're doing is making an impact on the lives of our students."
Walters leads a diverse set of courses at Cayuga, including chorus, music theory, musical theatre, musicianship and vocal lessons. She's taught at Cayuga for almost seven years, and also offers private vocal and piano lessons at her business, Notable Beginnings.
Four previous or current students nominated Walters for the award. WCNY Radio Host Diane Jones, who presented Walters with the award on September 29, said the students cited Walters' passion for music and for helping her students improve.
"The students talked about how Erica encourages them to achieve, but also how she makes sure they understand and are comfortable with everything they're learning," said Jones in summarizing the nominators' submissions. "She's inspired many of her students to pursue degrees in music or music education, and has encouraged them to continue to love and appreciate music as a hobby."
The diverse courses Walters teaches require that she adjust her teaching style based on topics. Certain courses, like music theory, incorporate more traditional classroom discussions and lectures, while chorus and musical theatre demand more flexibility.
The biggest part of her approach, said Walters, is focusing on what the students need to succeed each day.
"It's different every day, and can be based on what I hear in the moment," she said. "For chorus it can be if the students seem comfortable and confident. In musical theatre, where the students take the reins and choose scenes, I guide them as they make decisions. I really want them to develop those skills that I use in teaching."
The award also presents an incredible opportunity for students enrolled in Cayuga's Music courses. An ensemble of Cayuga students will perform in the WCNY FM studios this fall. The performance will be recorded and aired on Classic FM, with highlights included in a one-minute tribute video airing on WCNY-TV.
WCNY formally announced Walters's award on-air Wednesday and will air the announcement again on Saturday, Oct. 7, between 10-10:30 a.m.
For more details on Cayuga's Music program, visit https://www.cayuga-cc.edu/academics/schools/soma/degrees/music/. For details on the award, visit https://www.wcny.org/radio/musiceducator/.
OTHER NEWS
« Cayuga's Harlequin Productions Returns with Lighthearted Comedies
Student Showcase: Zach Ingersoll »